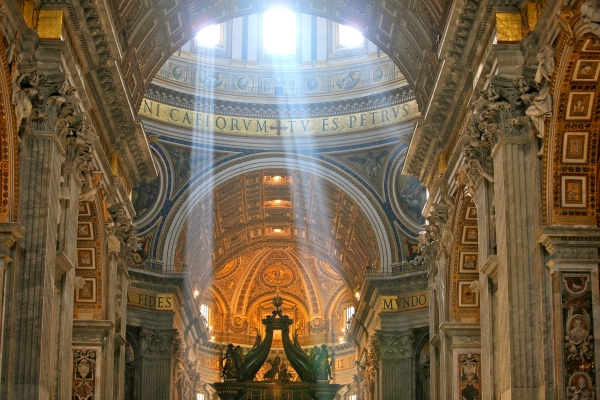 Depending on whether your parish has an RCIA program, you may hear one of two Gospels this weekend.
Cleansing of the Temple
Today, standing in the Temple area, we see Jesus cast out the money changers and those selling animals.  He tells them to "stop making my Father's house a marketplace" (Jn 2:16).  How do I understand what Jesus means when he says "my Father's house" today?  Is it the bricks and stones of the church building?  Is it watching Mass through the television or internet?  Does it extend yet further?  And, how do I share in Jesus' zeal for the Father's house?
Pope Francis reflects: "In these times of trouble, when everything seems fragile and uncertain, it may appear challenging to speak of hope.  Yet Lent is precisely the season of hope, when we turn back to God who patiently continues to care for his creation which we have often mistreated."
The Samaritan Woman
Today, we see Jesus at the well promising the Samaritan woman that "whoever drinks the water I shall give will never thirst" (Jn 4:14).  We know many types of thirsts – for water, for relationship, for connection.  Am I aware of my thirsts?  Do I thirst for a deeper relationship with God or does my past get in the way?
"Hoping with [Jesus] and because of him means believing that history does not end with our mistakes, our violence and injustice, or the sin that crucifies Love.  It means receiving from his open heart the Father's forgiveness." – Pope Francis
Resources for Lent:
Message of His Holiness for Lent 2021
Photo Attribution: Alex Proimos from Sydney, Australia, CC BY 2.0 <https://creativecommons.org/licenses/by/2.0>, via Wikimedia Commons
Share This Story, Choose Your Platform!