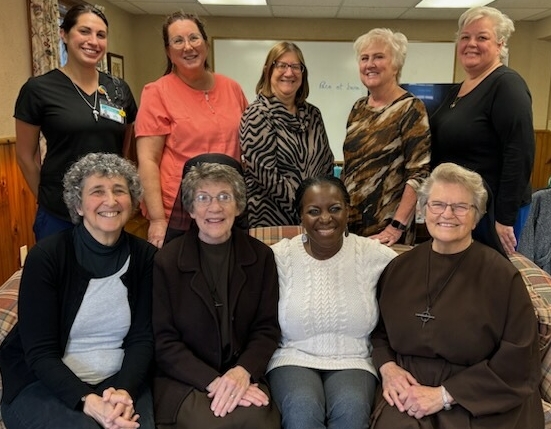 How may we serve you?
Hospice care is available to anyone who:
Is diagnosed by a physician with a terminal illness with a limited prognosis, generally six months.

Resides in one of the towns served by Franciscan Home Care and Hospice Care in either a private home or skilled nursing facility.

Desires a palliative approach to symptom management.

Is referred by the physician, the patient, family, friends, clergy, or agency personnel.
What is hospice care?
Hospice care is palliative care that focuses on serving and comforting patients and their families at the end of their lives or as the illness becomes terminal.  Most hospice programs concentrate on comfort rather than cure.  A medical specialty that provides for the whole individual through an interdisciplinary approach to the plan of care. It involves the person and their family at the center with the physician, nurse, social worker, pastoral care, home health aids and volunteers to create a team to meet the needs of the individual and the family. Physical, Occupational and Speech therapies might also be part of a hospice plan of care if the individual would benefit from these services. Most hospice patients can achieve a level of comfort that allows them and their families to concentrate on the emotional and practical issues of dying. Franciscan hospice care provides this type of care.
Hospice care is covered by the Medicare Hospice Benefit available for patients whose life expectancy is six months or less, as determined by their physician
Medicaid hospice coverage is the same as the Medicare benefit
Some commercial insurance companies also offer hospice coverage. If you are unsure of coverage, contact your insurance company
In most cases, hospice is provided in the patient's home
Hospice care is also provided in freestanding hospice facilities, hospitals, or nursing homes
Now is the best time to learn more about hospice and ask questions about what to expect from hospice services
What levels of Hospice Care are available?
There are four levels of hospice care available from Medicare Hospice Benefit because patients require different intensities of care during the course of their disease.
Routine Hospice Care
Routine Hospice Care is the most common level of hospice care. With this type of care, an individual has elected to receive hospice care at their residence/home, which can include a private residence/home, assisted living facility or nursing facility.
Continuous Home Care
Continuous Home Care is care provided in the home between 8 and 24 hours a day to manage uncontrolled pain and other acute medical symptoms. Continuous Home Care services must be predominately nursing care, supplemented with caregiver and hospice aide services and are intended to maintain the terminally ill patient at home during a pain or symptom crisis.
General Inpatient Care
General Inpatient Care is provided for pain control or other acute symptom management that cannot feasibly be provided in any other setting. General Inpatient Care begins when other efforts to manage symptoms have been ineffective. General Inpatient Care can be provided in a Medicare certified hospital, hospice inpatient facility, or nursing facility that has registered nursing available 24 hours a day to provide direct patient care. It is the individual needs of the patient (not the location of care or caregiver breakdown) that determines if patient qualifies for General Inpatient Care level of care. A patient who is actively dying is not, in and of itself, a reason for General Inpatient Care.
Inpatient Respite Care
Inpatient Respite Care is available to provide temporary relief to the patient's primary caregiver. Respite care can be provided in a hospital, hospice facility, or a long-term care facility that has sufficient 24-hour nursing personnel present on all shifts to guarantee that patient's needs are met. Respite care is provided for a maximum of 5 consecutive days.
Hospice Care Services
admin
2018-06-15T16:57:06-04:00
FAQ
Isn't hospice for the last days or week of life?
admin
2017-09-04T18:42:27-04:00
Individuals and their families benefit most when they have more time with a hospice than just a few days or weeks. This supportive service, during a most challenging time, is based on trust and relationship building that can best occur over months of care, rather than just the last few days.