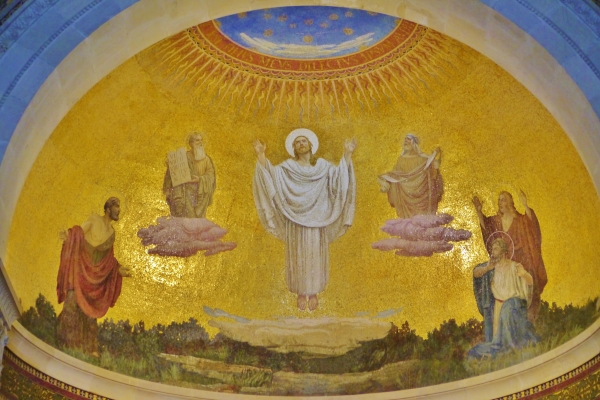 The story of the Transfiguration is hard to imagine: standing in the presence of Moses, Elijah, and Our Lord and then descending the mountain to reenter the ordinary routine of life.  Like Peter, who wanted to build three tents, we often struggle with the connection between the transcendent and the mundane.
A beautiful mosaic on Mount Tabor depicts the scene in shining colors.  God wants us to remember the brilliance and promise of this moment.  Pope Francis writes "Lent is a time for believing, for welcoming God into our lives and allowing him to 'make his dwelling' among us (cf. Jn 14:23)."  He continues, "fasting involves being freed from all that weighs us down – like consumerism or an excess of information, whether true or false – in order to open the doors of our hearts to the One who comes to us, poor in all things, yet 'full of grace and truth' (Jn 1:14)."
As you enter more deeply into the Lenten fast, you may be looking for a new way to open your heart to Christ.  A resource link has been added below for a free podcast called The Bible in a Year, available online.
Resources for Lent:
Message of His Holiness for Lent 2021
What is Lent? (USCCB)
Share This Story, Choose Your Platform!