As we celebrate National Home Care and Hospice Care Month, Franciscan Home Care and Hospice Care is grateful for our Franciscan Hospice Team including the Hospice Care Volunteers, and for the opportunity to provide end of life care to individuals and families in central Connecticut.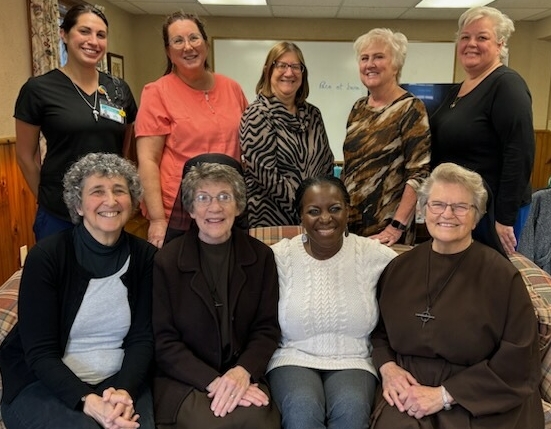 Interdisciplinary Team, seated from left, Audrey Lefkowitz, MD; Sister Catherine Mary Clarke, FSE, LCSW; PetaRose Tom, MSN, Hospice Director; Sister Suzanne Gross, FSE, Administrator. Standing from left, Lindsey Pelletier, RN; Nancy Aitken, LPN; Barbara Raby, Hospice Volunteer Coordinator; Marie Laffin, RN, Clinical Director; Kathleen McGuire, RN.
Franciscan Hospice Care Volunteers, standing from left, BJ Raby, Marian Levine, Mary Pardee, Diarmid Kelly, Brenda Lazar, Jeanne Wilson.  Front row, from left, Cindy Reagan, Lorraine Webster, Cindy Gaioni, Gini  Sonstrom.