Nursing Care
Whether you recovering from an illness or injury, or need ongoing health care oversight, a nurse can provide care and treatments so that you can remain in your home. The nurse will give updates to your physician on how you are doing so that adjustments to your care can be made when necessary. Listed below are some services the nurse provides.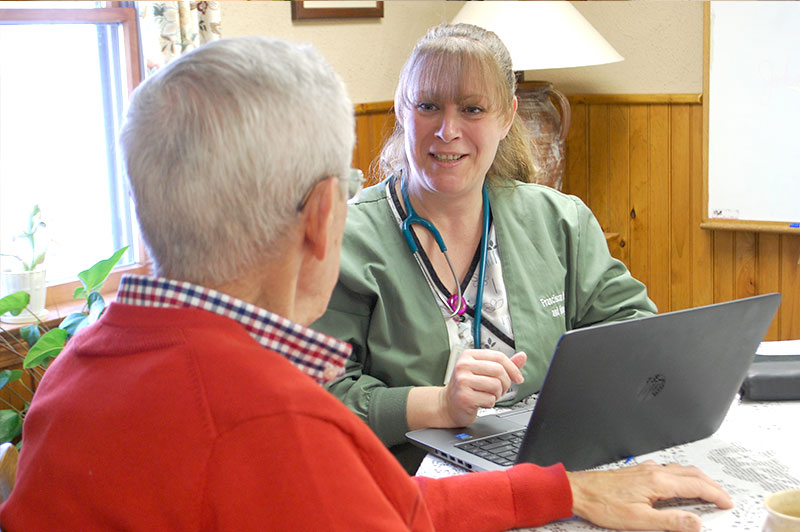 Assesses blood pressure, heart rate, respiration
Checks oxygen saturation
Provides treatments such as wound care, blood sugar monitoring and medication administration
Assesses tolerance of new medications, assessing for adverse side effects
Teaches regarding medications, diet and signs and symptoms of a developing problem
Teaches the patient how to manage their illness, disease or compensate for an injury
Case manages a plan of care and coordination of additional health services or community resources that will allow the patient to remain in their own home safely.
Wound Care
Our staff of nurses is highly skilled in providing wound care to patients in the home.  Sister Jilda Marie Chabot, F.S.E., RN, CWS, is a certified wound specialist and is available to assess and consult regarding the care and treatment of patients who have wounds. The nurses receive ongoing training in state of the art treatments such as negative pressure wound therapy and advanced wound care products.
Physical Therapy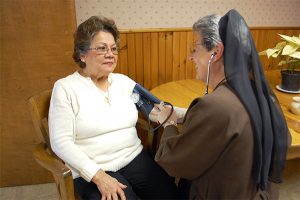 A physical therapist can provide treatment to improve movement and mobility, to reduce pain, to restore function and increase physical strength, customizing the therapy to the patient in their home environment.  Listed below are services a physical therapist provides.
Provides Home Safety Assessments
Offers Fall Risk Assessments
Works to Improve Ambulation Stability/Functional Mobility
Increases Physical Endurance
Teach Energy Conservation Techniques
Evaluate for Safety Equipment
LSVT Big and Loud
Occupational Therapy
An occupational therapist assesses a patient's ability to perform activities such as bathing, dressing, personal care and meal preparation and then provides treatment to restore a patient's independence by increasing function and adapting the environment.  Listed below are services an occupational therapist provides.
Works to Increase Independence with Activities of Daily Living:

Bathing
Grooming
Dressing
Personal Care Needs
Eating
Toileting
Works to Increase Independence with Instrumental Activities of Daily Living:

Meal Preparation
Routine Household Tasks
Ability to Use Telephone
Laundry
Grocery Shopping
Social Work
When assistance is needed navigating health care needs, a social worker can provide support and help with immediate concerns and with determining long-range solutions.  Listed below are some areas of assistance the social worker can provide.
Psychosocial Assessments
Short Term Counseling
Emotional Support for Patient and Caregiver
Coping Techniques
Exploring Community Resources
Exploring Financial Resources
Home Health Aide
When you need assistance with your personal care, a home health aide is someone who can help you. The home health aide can visit one or more times per week, depending on the level of care required. Listed below are some services the home health aide can provide.
Bathing
Toileting
Ambulation Assistance
Grooming
Foot Care
Assist with Exercises